Bolt-Action Accuracy, Semi-Auto Speed!
EFI, LLC offers the Rapid Strike as a turn-key shooting system instead of just a rifle. EFI, LLC designed it for professional shooters and we guarantee at least half minute of angle accuracy* from every one that we deliver. Options include barrel lengths between 20 and 27 inches, caliber choices of .264, .308, and .338 Federal, and even multiple mission-specific upper assemblies. The Rapid Strike is also available with an airline-approved hard case, scope, bipod, extra magazines, cleaning system, tools, and a sound suppressor (where local laws permit).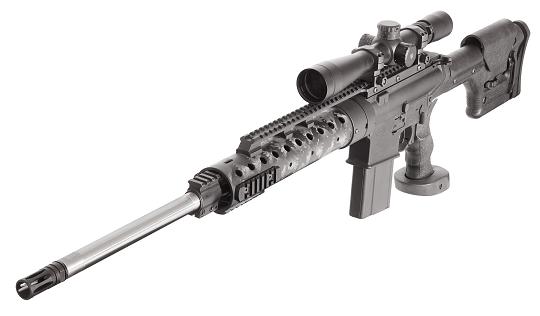 EFI, LLC believes in offering our customers the absolute best that the industry can offer. To this end, we perform the barrel break-in and zero each Rapid Strike rifle. These shots are logged into the included data book.
EFI, LLC uses only the top components available for the Rapid Strike from reputable companies such as Armalite, Krieger Barrels, Precision Reflex Industries, Magpul, AWC Systems Technology, and others. EFI, LLC selected and configured the Rapid Strike components to meet the needs of military, law enforcement, and private shooters without needless bells and whistles that contribute nothing to the shooter or the shot.
Due to the customized and personalized nature of the Rapid Strike, please call for full options and pricing.
*Accuracy guarantee for:
1) a trained shooter using quality ammunition from a fixed position, and
2) rifles where EFI, LLC has performed the barrel break-in.
EFI, LLC: Serving the Shenendoah Valley as a Gunsmith and Custom Firearm Manufacturer Since 2008.